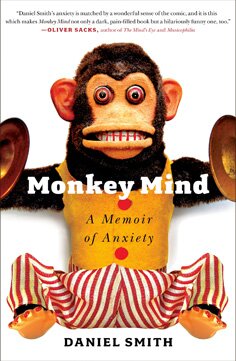 No one likes to be anxious. Look at us. We're a country of yoga-practicers, Lexapro poppers, and after-work boozers. While anxiety smacks some of us upside the head only over Really Big Things, like deciding what flavor of buttercream belongs on your wedding cake, for others anxiety suffuses every neuron every second of the day, creating debilitating dread and untold potential for calamity even when choosing between, say, choosing between ketchup and barbecue sauce. In his book Monkey Mind, author Daniel Smith (he of the condiment confusion) explains with startling candor and unrelenting curiosity the difficulties, to say the least, that accompany having been dealt a perpetually short-circuited anxiety loop. He also reveals his dogged diligence in understanding this quirk so that he can learn to (mostly) overcome it, if only moment by moment. May we all–the uneasy, the nervous, the stressed, the twitchy, the easily freaked out–be so inclined…and so inspired by his story.–Renee Schettler Rossi
Kierkegaard was right: To be human is to be anxious.
What I refer to as The Roy Rogers Problem refers to a meal I had seven years ago at the Roy Rogers franchise in the Grover Cleveland Service Area and park-and-ride, between exits 11 and 12 off the New Jersey Turnpike. I had stopped to pee and buy washer fluid when I was struck by an urgent need for a roast beef sandwich. The problem was what to put on the roast beef.
After selecting and purchasing my foil-wrapped sandwich at the cafeteria-style counter, I headed to the fixin's bar, where I decided that what my sandwich required produce-wise was a single slice of whitish-pink tomato and absolutely no lettuce. I had no difficulty with this decision; I didn't even have to think about it. And yet the condiments caused me immediate trouble. Some choices trigger one's anxiety sense and others do not. I'm talking here about semi-liquid condiments. I quickly ruled out mustard: I don't like mustard on beef. Mayonnaise, meanwhile, was out of the question for ethno-cultural reasons. This left me gazing through the cloudy, fingerprint-smudged sneeze guard at the dark condiments: barbeque sauce and ketchup…
Click here to continue reading and share your comments.